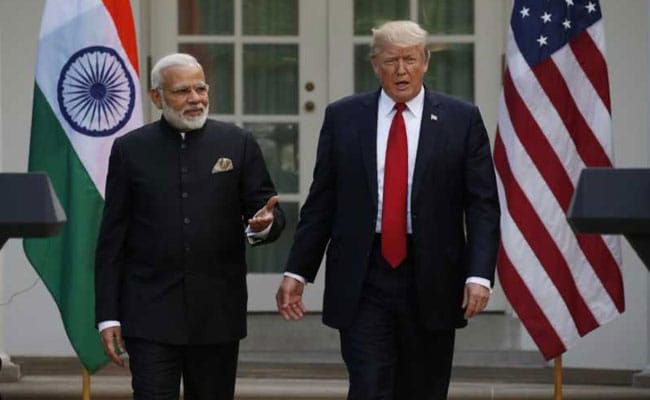 New Delhi: 
Prime Minister Narendra Modi, who left on a week-long visit to the United States has expressed confidence that his visit would present India as a vibrant land of opportunities, a reliable partner and a global leader. He also said that US President Donald Trump's presence at the Houston event marks a new milestone.
This would be the first time that a US President is attending an Indian-American community event with him, PM Modi said. More than 50,000 Indian-Americans are expected to participate in the mega "Howdy, Modi" event tomorrow.
In his departure statement ahead of his week-long visit, Prime Minister Modi referred to Indo-US relations and said that working together, the two nations can contribute to building a more peaceful, stable, secure, sustainable and prosperous world.
"I am confident that my visit would present India as a vibrant land of opportunities, a reliable partner and a global leader, and will also help impart new energy to our relations with the United States," he said.
PM Modi also said that at the High Level Segment of the 74th Session of the United Nations General Assembly, he would reiterate New Delhi's commitment to reformed multilateralism, which is responsive, effective and inclusive, and in which India plays her due role.
Speaking about the Indian community in the United States, PM Modi said "Their success in diverse fields, their contribution to the US in various walks of life, their strong bonds with India and their role as a living bridge between our two democracies is a source of pride for us."
He termed Donald Trump's decision to be present at the Houston event and join him in addressing the Indian-American community as a great honour for the Indian diaspora and a pleasure for him.
"This would be a maiden appearance of a US President in an Indian community event with me, and marks a new milestone in our outreach to them," PM Modi said, adding that he was looking forward to meeting President Trump in Houston and New York in a span of a few days.
"We will review our bilateral relations in order to bring even more benefits to our two nations and people. The US is a vital partner for our national development, with rich possibilities of partnership in education, skills, research, technology and innovation, and an enabler for India in economic growth and national security," he said.