Does your multi-cap fund seem more like a large-cap scheme? The capital market regulator, Securities and Exchange Board of India (SEBI) has directed mutual funds (MFs) to re-jig portfolios of multi-cap funds to ensure they are true-to-label. It has says that multi-cap funds must invest at least 25 per cent each in large-cap, mid-cap and small-cap stocks. With this latest ruling, fund managers are bracing themselves for a fresh set of challenges, as they would now have to re-calibrate their portfolios. They need to buy enough mid-cap and small-cap stocks and prune their large-cap holdings.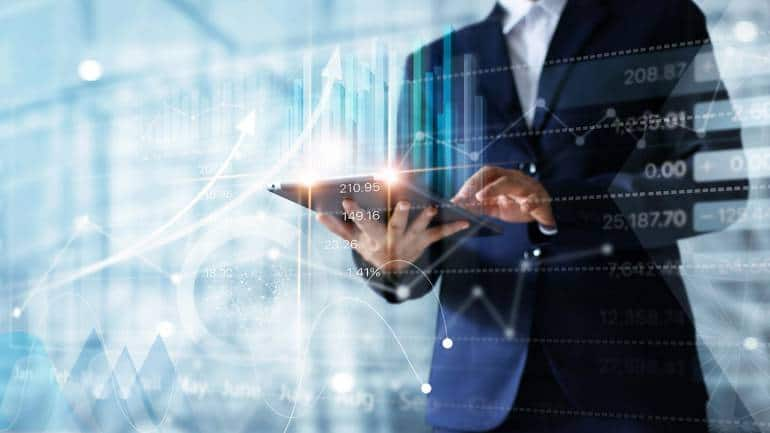 Fund houses will have to comply with the new norms by January, 2021.
As of August, 2020, the assets under management of multi-cap funds stood at Rs 1.46 trillion. According to data from Morningstar, of the 35 multi-cap funds, 32 have over 50 per cent allocation to large-cap stocks. Of this, 28 schemes have between 65 per cent and 92 per cent large-cap allocation. While there is still reasonable exposure to mid-cap stocks (15-39 per cent in 21 multi-cap schemes), the exposure to small-cap stocks remains low. The data shows that as many as 27 schemes have exposure of 10 per cent or less to small-cap stocks.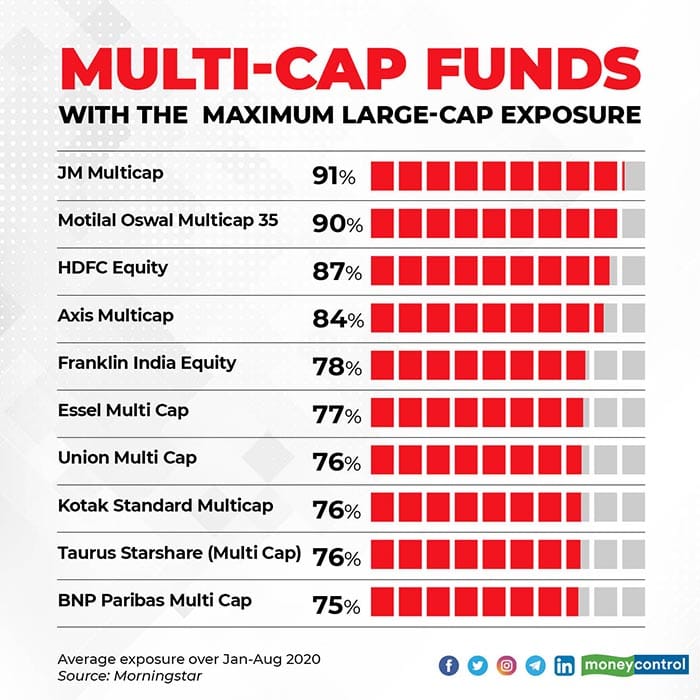 Back-of-the-envelope calculations show that fund managers would have to sell roughly Rs 36,714 crore worth of large-caps and distribute the same to mid and small-cap stocks. Kaustubh Belapurkar, director-manager research, Morningstar, puts this number at about Rs 40,700 crore as per his calculations; he says, of this, roughly Rs 13,000 crore would move to mid-cap stocks and roughly (Rs 27,700 crore would be deployed on small-caps. "This will put tremendous buying pressure on small-cap counters," he says, referring to the rising demand that is expected for shares of small-sized firms.
Impact on investors
Belapurkar fears that investors who have adequate exposure to small and mid-cap stocks might exit multi-cap funds as many of these would now invest sizably in such companies.
A side-effect of this rule would be on those schemes that also invest in international equities. "Multi-cap funds that have international allocation will not be able to increase it to more than 25 per cent of the portfolio," he added. While the new norms have stated the limits on minimum allocations for 75 per cent of the scheme's corpus, fund managers will still have discretion on 25 per cent of the remaining assets.
A few experts predict that some fund houses could even apply for re-classifying their existing multi-cap schemes under another category, to avoid wide re-shuffling of the portfolios.
Rushabh Desai, an AMFI-registered mutual fund distributor says that this is a good move. "Even though fund managers will lose the flexibility to allocate among large mid and small-cap stocks, investors will finally get a pure diversified multi-cap portfolio. It is important to understand that multi-cap funds are not supposed to work as dynamic equity funds, where a fund manager has complete discretion to have high allocation to any particular market-cap over the rest."
A small-cap rally in the offing?
Some experts say that SEBI's move can upset the markets.  "Given the large asset size of multi-cap funds, the move can be disruptive for the overall markets, like we saw after the categorisation norms were tweaked, back in 2017. So, we don't see it as a positive move in that sense", says Kirtan Shah, chief financial planner at SRE.
This move is likely to lead to a short rally in small-cap stocks. "The fallout of the rebalancing by asset management companies would be visible in the equity markets, with the CNX small-cap index likely to sharply outperform, with buying interest from domestic institutions in the coming months," says Jean-Christophe Gougeon, Director – Investment Solutions, Sharekhan BNP Paribas. "Consequently, small-cap mutual fund schemes could be indirect gainers from the new guidelines given by the regulator," he adds.
This move may have a positive outcome for the broader markets in the long-run. "The move will ensure there is enough allocation to mid and small-caps in multi-cap funds. Over the long-run, this will help in improving the breadth of the market," says A Balasubramanian, managing director and chief executive officer of Aditya Birla Sun Life MF.
MF industry could approach SEBI for a re-look
With most of the existing multi-cap funds are caught on the wrong side of the new norms, fund managers say they could approach the market regulator for a re-look at the changes made in the regulation and seek some leeway.
"Even the weight of small-caps in BSE 500, which is a benchmark for multi-cap funds, is less than six per cent. So, requiring 25 per cent weight in such stocks doesn't hold water," says a fund manager of a multi-cap fund, which would also be forced to go through wide re-shuffling of the portfolio following new norms. "We are looking at approaching SEBI as an industry, to re-visit these norms," he says.
Small-cap stocks have low market capitalisation and face a lack of liquidity. Industry experts say it would be difficult for equity fund managers to identify small-cap stocks where they can make fresh investments in the current market conditions.
"Even large-sized small-cap funds have been finding it difficult to deploy funds amid the prevailing uncertainty in the markets and we small-cap funds have frequently halted investor flows due to limited investment opportunities in this segment," says another fund manager.
When SEBI announced the re-categorisation and rationalisation of mutual fund schemes back in October 2017, there were no limits on how the fund manager can allocate the corpus of the schemes across market caps. The only requirement was 65 per cent minimum allocation to equity.
This gave the fund manager's the leeway to structure their portfolios, depending upon their valuations of the market environment.
From being schemes with a large-cap tilt, multi-cap funds may now have allocation across the market-cap spectrum.